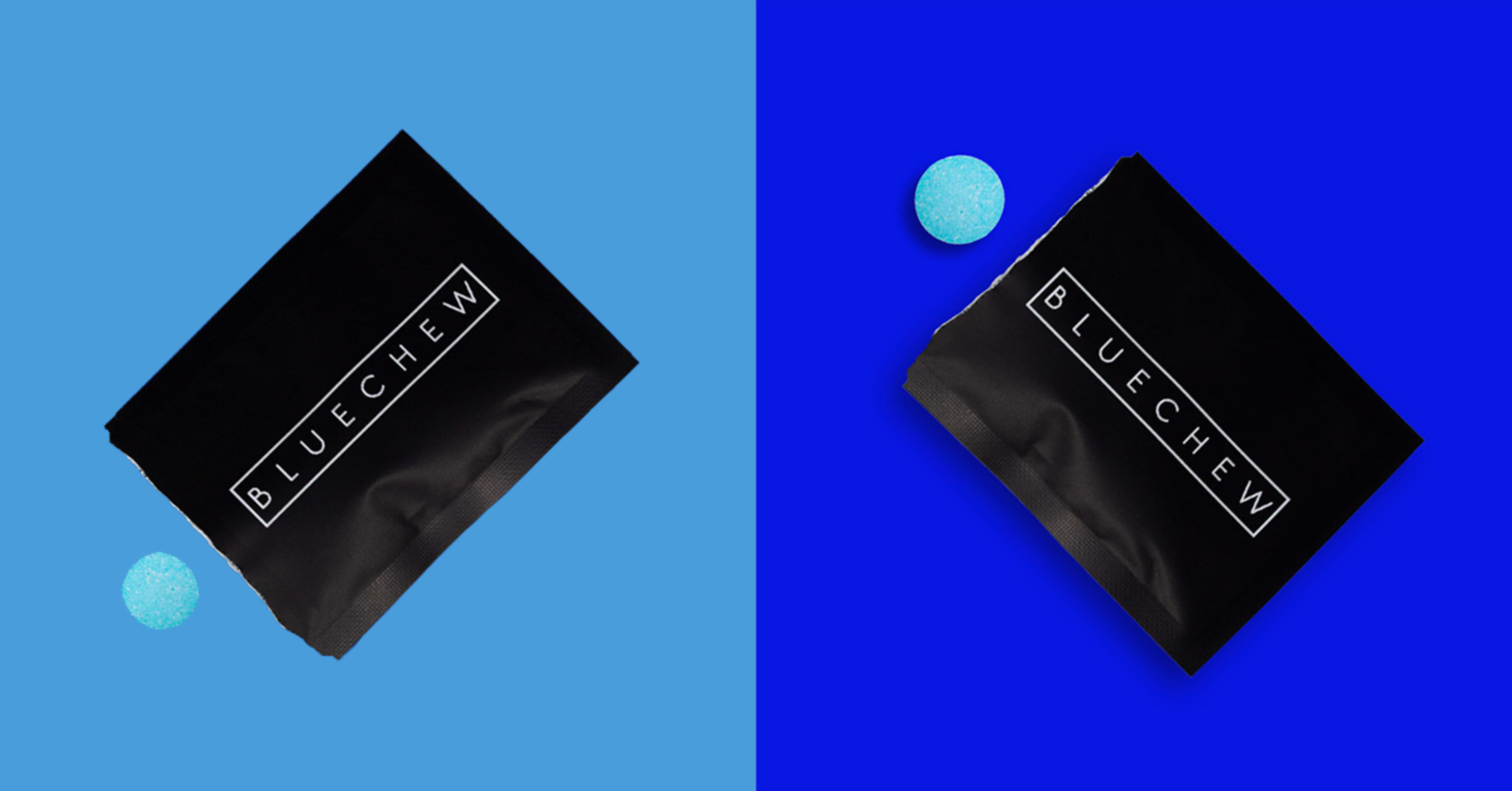 Let's face it: It's not always easy to feel confident in the bedroom. After all, peak performance can only be achieved when multiple factors all fall into place. For this reason and because of a long list of medical conditions that often complicate the achievement of a strong erection, many men are looking for a solution to the ED (erectile dysfunction) challenges they face.
Fortunately, there's a service out there that targets these challenges directly. It's called BlueChew, and it really works.
What Is BlueChew?
You may have heard your friends or coworkers talking about BlueChew, but what is BlueChew exactly?
BlueChew is an online service. It's actually a telemedicine platform that connects individuals who struggle with ED with licensed medical professionals who can then provide qualifying individuals with a prescription for BlueChew's chewable tablets.
Does BlueChew work? It relies on valid medical research and medications to solve the problems associated with ED. These tablets contain the same active ingredients (Sildenafil and Tadalafil) as ED prescription medications such as Viagra and Cialis.
When you sign up for BlueChew, you'll be able to choose from a number of different subscriptions. BlueChew pills don't exist. Each subscription provides a different level of active ingredients and a different number of chewable tablets, which you can choose to take in different ways. You'll receive your tablets by mail in a discreet package, so you don't have to worry about the mailman or your neighbors wondering why you're receiving packages from an ED brand. It's all totally private.
Does BlueChew Work?
Is BlueChew legit? Yes. As stated, BlueChew uses the same active ingredients as Viagra and other ED medications. Tadalafil, for example, is found in medications such as Cialis. Sildenafil is found in medications like Viagra. Both of these drugs are FDA (Food and Drug Administration) approved.
BlueChew's tablets work because they block an enzyme called PDE-5, which constricts blood vessels. By blocking PDE-5, the blood vessels in the penis actually relax, and blood flow is increased. This is called vasodilation, and it's necessary for achieving strong and long-lasting erections.
Does BlueChew work only when you're sexually aroused, or could it cause an erection when you don't want it to?
No. Rest assured that this effect only occurs when you want it to. In other words, you're not going to get an erection if you're not sexually aroused. This makes it possible to take BlueChew's tablets before you think you may have a sexual interaction with your partner. Then, when the moment strikes, you'll be absolutely ready and able to achieve and maintain a hard and pleasurable erection.
What Sets BlueChew Apart?
You might be wondering why you would choose BlueChew's service over simply getting a prescription for Viagra or another ED medication from your primary care physician.
For one thing, not many men feel comfortable talking in person with their medical provider about their challenges in the bedroom. This isn't new. While there is nothing to be ashamed or embarrassed about if you struggle to maintain or achieve an erection before or during sexual intercourse, it can still feel odd to bring this up in person at your doctor's office. BlueChew allows you to discuss this issue virtually with a licensed medical professional who specializes in this area of medicine. There are no in-person doctor visits with BlueChew's services.
Moreover, you don't even need to worry about having to pick up a prescription at your local pharmacy because your prescription will arrive right at your door in discreet packaging that makes it impossible to know what's inside.
Next, you'll find that BlueChew's tablets are far less expensive than typical ED medications such as Cialis and Viagra. At the same time, all of BlueChew's tablets are produced and distributed right here in the United States.
Finally, many individuals struggle to swallow even small- and medium-sized pills, but BlueChew's tablets are chewable, making them far easier to take exactly when you need them most. BlueChew pills don't exist.
Interested in Trying BlueChew?
If you struggle with ED or think you may have symptoms associated with this condition, consider giving BlueChew a try. It's super simple to get started with one of the numerous subscription options available on the BlueChew website.
Simply go to BlueChew.com, start an account, and you'll be quickly connected with a licensed medical professional who can assess your symptoms and prescribe the necessary tablets. Before you know it, you'll be back in the bedroom with more confidence than ever before.
Health